Car Key Locksmith Creates Google Drawing To Promote Services
We continue with our exploration of ways to publicize our business and services to the automobile public and service industry.
In the process, we have created a Google Drawing. (See Below)
In it, we brag about our winning Thumbtacks 2015 award as the #1 Locksmith in Minneapolis, and using a series of post it notes, describe some of our many services, and other details including a list of some of our recent blog posts.
We have a fleet of vehicles that serve the entire Twin cities metro area, and help people who have lost their car keys, or managed to break their keys.
We also can fix remotes and install new batteries as needed.
And should you find that your key gets stuck in the ignition and won't come out, we can help you.
That includes helping when you insert your key but it won't turn to start your car.
These are common issues for us, but for most of the general public, they come as an unpleasant shock. While new keys can be relatively expensive these days with all their enhanced features, there is no real need to go to the additional expense of having your car towed to the dealer. And as such we focus attention to our "Come to you" service with the only now yellow post it, a pink one pointing that out.
As our first such effort, we are not bragging about our creative abilities. But we are proud of our continuing efforts to stand out in the community a your best resource when you need a car key locksmith.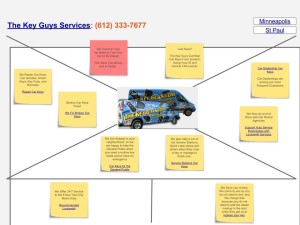 So, when you need help with your car keys in the Minneapolis St Paul Twin Cities area be sure to contact us at our office 612-333-7677. We will dispatch assistance to you 24/7 to get you back on the road as soon as possible.
from The Key Guys
http://thekeyguys.tumblr.com/post/130880301682
via
IFTTT